Fine art and crafts are an important part of EFM's mission — supporting local artists and craftsmen. Art and crafts vendors include:
Earthen Goat (May 14, Jun 25, Jul 16, Aug 13, Sep 3, Oct 8) (NEW for 2022!)
While navigating career shifts and life events in 2019, Kevin Blonski began to revisit his love for ceramics. He pitched the idea of a pottery business to his partner Sam Levisay, and they began to brainstorm. Since they both have a passion for plants (with countless houseplants in their apartment), it was only natural to gravitate towards plants and pottery – the perfect pairing.
In August 2020, after many, many months of work, planning, and thought that Earthen Goat was officially established. Since then they have worked with a variety of other Lehigh Valley based companies and creators and they continue to grow as artists and as a business. All of their pottery is handmade and kiln fired in Easton, PA.
Easton, PA
www.earthengoat.com
---
Easton Cycle (
May 28, Jul 30, Aug 27)

(NEW for 2022!)
Easton Cycle is Easton's first boutique indoor cycling experience. We offer 45 minute rhythm-based rides that will leave you feeling energized and motivated to live your best life. No experience required! This summer we are popping up outside at the EFM for rides at 9:30 and 10:30.
As always…ride your bike, live your life!
*Participants may bring SPD clip in cycle shoes or wear traditional sneakers*
Sign up at www.eastoncycle.com
---
Homestead (Dec 3, 10, 17) (NEW for 2022!)
HOMESTEAD of Easton strives to connect the community with the opportunity to shop consciously for all their gift, home and lifestyle good needs from makers around the country that are doing good with their businesses. All items are carefully picked to meet standards of responsibility and transparency, starting with not being on Amazon, being small batch and handmade. You'll also find shops that include vegan items, eco-conscious items, and/or may be women and LGBTQ-owned businesses. They strive to be a model in the Lehigh Valley changing cultural purchasing preferences to goods that do good. HOMESTEAD is registered as a Benefit Company and is working towards becoming Easton, PA's first B Corporation adhering to strict guidelines of responsibility, transparency and accountability.
2020 Dayton Drive, Easton, PA, United States, Pennsylvania
(727) 804-8664
elenamusella1@gmail.com
Homestead of Easton
---
House With Heart (December 3)
House with Heart (HwH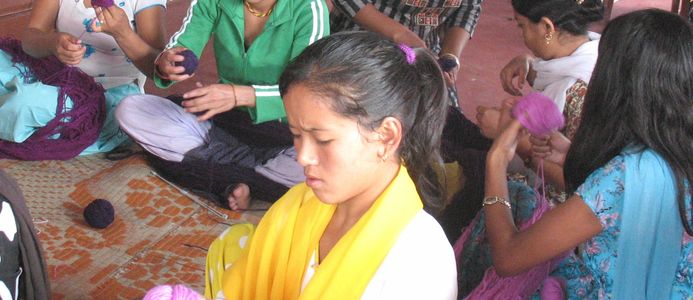 ) is a charity that provides a home for abandoned children, an education center for impoverished women and children, and an outreach program for needy families in Kathmandu, Nepal. Formed in 2001, the organization continues to uplift children and families by providing educational services. With an extensive array of handmade felted ornaments and beautiful mohair scarves, every gift supports their mission!
151 First Ave, #74 New York, NY 10003
info@housewithheart.org
housewithheart.org
---
Heart Beet Studios (
May 21, Jun 4, Jul 9 & 23, Aug 6, Sep 17, Oct 15 & 29, Nov 12)
Artist Emma Rimi: As a potter, I want the clay to act as another voice of expression. Recently, I have been focusing on the absolute beauty in nature and how to showcase this in ceramic form. My work consists of inspirations from real life conversations, experiences, and the earth that surrounds me. I want to capture and fossilize this by confronting one to look deeper and realize the beauty and little intricacies in life and nature. All pots are food, dishwasher, and microwave safe!
47 Kinnaman Ave
Washington NJ 078826
908-442-0907
www.heartbeetstudios.com
---
Knot Too Shabby Shop (May 14, 21; Jun 4, 25; Jul 9, 23; Aug 6, 20; Sep 3, 17; Oct 1, 15, 29; Nov 12) (NEW for 2022!)
All things macrame, made with 100% love, just for you! After 5 years of working as a nanny, the pandemic (as with many) forced Jamie Quiroga to look at other options for work. She started Knot Too Shabby Shop as a hobby, and it quickly turned into her main focus. "Not only is it relaxing, but I also truly enjoy it! I am self-taught and have learned all of the techniques with online learning."
Cresco, PA
Knot Too Shabby Etsy Shop
---
Mayamam Weavers (December 3, 10, 17)
Beginning in 2008 as a cooperative of women in Cajolá, a Mayan town in the western highlands of Guatemala, the women of the town came together to explore ways to provide jobs within their community, rather than migrate to the U.S. and separate their families. Since then, then cooperative has grown to 20 weavers and seamstresses, all earning fair trade wages while learning the skills to run a business. As proud members of the Fair Trade Association, their products range from beautiful woven bags to jewelry, toiletry cases to aprons, belts and so much more…!
50 Cutler St. Morristown, NJ 07960
973.610.8902
mayamamweavers.com
---
Mud & Maker (May 7 & 14)
Stephanie Premich blends multiple techniques and mediums into handcrafted and original one-of-a-kind pieces of pottery. Living and working in rural Pennsylvania, she is inspired by her natural surroundings and people she meets – many pieces include elements of playful design, blending a colorful rustic aesthetic with just the right amount of snarky wit. "We believe each day is unique – just like every piece of pottery we make.
6 South Centre Street
Pottsville PA 17901
484-650-2745
www.mudandmaker.com
---
Neil's Sharpening Service (2nd Saturdays)
Neil Jacob says, "I am in the business of sharpening," so when you need to 'get sharp' Neil's your guy! Bring your knives, scissors, garden loppers, garden shears, rotary lawn mower blades, reel mower blades, hair clippers, animal clippers, axes & hatchets, planes, drill bits, circular saw blades, chain saw chains (and the list goes on) to EFM. Check out Neil's website for more information on pricing and services.

411 Church Street
Ambler PA 19002
neilssharpeningservice@gmail.com
www.neilssharpeningservice.com
---
Sacred Vessel Arts (Sep 24, Oct. 8, Nov 12 & 19, Dec 3 & 10) (NEW for 2022!)
Sacred Vessel Arts is an expression of Art + Alchemy for Mind, Body and Spirit. Local maker Katie O'Neill blends her love of art and herbalism by offering a variety of enchanting sculptures and herbal wellness products inspired by Mother Nature's gifts. Her handcrafted sacred talismans contain natural items found along her outdoor adventures living on Lenape land in Bucks County, PA and her childhood home at the Jersey shore. Feathers, rocks and bones as well as shells and driftwood are intricately woven with hand pierced mixed metals that represent the phases of the moon. Smudge bundles, Flower Essences, Elixirs and Tinctures are carefully created with local garden grown and wild foraged ingredients for optimal nourishment and in respect to the land. Sacred Vessel Arts hopes to awaken creative wild wonder in the world and provide holistic wellness through its intentional offerings. Katie is looking forward to connecting with the local community during her first season at the Easton Farmers Market!
Ottsville, PA
www.sacredvesselarts.com
---
UrbanBohoChic (May 7, Jun 4, Jul 30, Oct 15) (NEW for 2022!)
UrbanBohoChic is authentic, handmade jewelry designed for the Free Spirit. Inspired by West African designs and the Japanese Wabi Sabi aesthetic, artist Terry Fasano creates jewelry leaving you free to express who you are and not who the world thinks you should be. While hammering and soldering at her bench, she envisions the amazing women who wear her designs and designs with them in mind. This challenges her to keep it real, yet bold and unique. "I hope that every person who wears UrbanBohoChic feels the passion with which I make each piece."
Allentown, PA
www.urbanbohochicjewelry.com